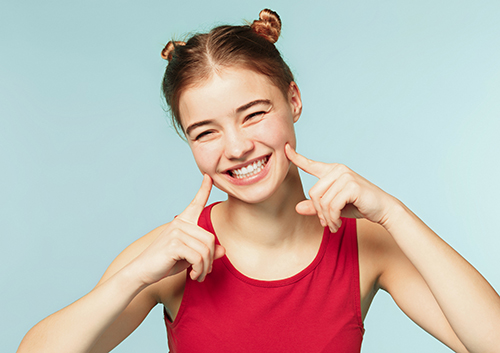 Congratulations! You are already on your way to your best smile now that you have decided on orthodontic treatment. And while any amount of time it takes to create your beautiful smile is worth it, the sooner that process is completed, the better. With AcceleDent®, you can actually speed up the orthodontic process safely and effectively!
What is AcceleDent?
The AcceleDent device is a hands-free, lightweight appliance that is inserted around your braces or aligners and held in place by your teeth. When you turn on the Activator, gentle vibrations, or micropulses, are sent through the teeth and their roots into the bone surrounding them. It takes only 20 minutes each day, and patients notice not only faster tooth movement, but often less orthodontic discomfort as well.
How Does AcceleDent Speed Up My Treatment?
When you have braces or aligners, slow and steady pressure is put on your teeth to move them to their desired positions. This pressure affects the bone surrounding each tooth, and the body responds by changing the shape of the bone tissue. You end up with teeth held securely in their new, aligned position by the remodeled bone. This process is also slow and steady. Changes in the bone take place on the cellular level, and gradually develop over time. The micropulses created by the AcceleDent appliance actually stimulate this cellular activity, which can lead to faster progress in the repositioning of your teeth and therefore a shorter treatment schedule.
How Safe is AcceleDent?
The AcceleDent appliance delivers precise vibrations to the teeth with a patented process called SoftPulse Technology®. These micropulses provide the gentle stimulation that increases cellular activity. The vibrations produce less force than using an electric toothbrush, and 200 times less force than we apply to our teeth with normal chewing!
AcceleDent is available at our San Diego, CA office. The process has undergone numerous clinical trials, and has been shown to be safe and reliable. AcceleDent has been cleared by the FDA as a single-user prescription device, and has been prescribed to thousands of patients since it was introduced.
Our most important goal is to provide you with a beautiful, healthy smile. Talk to Dr. Melanie Parker about AcceleDent if you would like to explore a gentle option for achieving this goal as quickly and safely as possible.