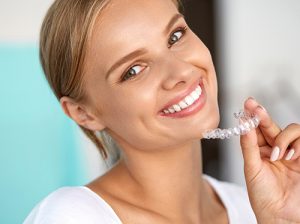 If you're like most adults, you aren't enthused about the idea of having to get traditional metal braces. The look, feel, and cost keep many people from getting the smile they want.
However, many options are available at our San Diego, CA office if you're looking for a cost-effective and more discreet way to straighten your teeth.
Choosing the right kind of cosmetic braces depends on the severity of your situation. Some cosmetic braces, such as clear aligners, are best suited for mild to moderate spacing or crowding of the teeth, and minimal bite alignment issues. But there are options for people who need more intense treatment.
Below is a list of some of the most popular options available today.
Invisalign® involves multiple clear aligner trays that you wear in a predetermined order to achieve the desired treatment result. Most people won't even know you're wearing them, and they offer solid results. Clear aligners might not be suitable for all cases; they are mainly for those with mild to moderate spacing or crowding of the teeth and minimal bite alignment issues.
Ceramic braces are similar to traditional braces, but less visible due to translucent ceramic brackets and/or wires. They are not quite as discreet as clear aligners such as Invisalign, but they are more subtle than traditional braces and can be used for most cases.
Lingual braces are attached to the back of your teeth instead of the front. They are highly discreet but effective at moving teeth and correcting bite issues. Their cost is higher due to the materials involved, and the additional time and effort required to place them accurately.
Self-ligating braces are similar to traditional metal braces, but no elastics (ligatures) are required on the bracket because they have built-in clips to hold the wire against your teeth. People will perceive you're wearing them, but they don't need as many adjustments from Dr. Melanie Parker, so you'll require fewer appointments and undergo a shorter treatment time.
It's only natural to have questions before you embark on a course of braces treatment. Speak with Dr. Melanie Parker or any of our staff members at our San Diego, CA office about your goals, budget, and timeframe, and we'll help you find the right fit!